Worship Series: Leading a Life Worthy of God
Pastor Doug's nine-week series titled, "Leading a Life Worthy of God," is based on 1 Thessalonians.
First Thessalonians was written around the year 50-51 A.D. It is the earliest evidence for the existence of Christianity.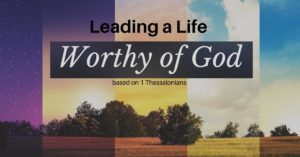 In this letter we hear the first notes of key themes that Paul will develop and write about repeatedly and more fully in letters such as Romans, 1 Corinthians, Philippians and Colossians that came in the years of ministry that followed.
In First Thessalonians we're introduced to Paul's teaching about grace, faith, hope, and love; joy, prayerful thanksgiving, enduring persecution and opposition, the second coming of the Lord, exhortations to holiness, sexual morality, and encouragement for believers to live as followers of Jesus as part of a community that is distinctive from the culture at large but inviting to other people.
There is much we can learn from 1 Thessalonians about Leading a Life Worthy of God (1 Thessalonians 2.12).