Holiday Fair at Brewster Baptist
Saturday, November 4, 2023, from 9:00 am to 3:00 pm
For 18 years, BBC has held a Holiday Fair, raising over half a million dollars to support local Cape Cod charities.
This Year 100% of the Proceeds will be Donated to These 4 Charities
Sharing God's Love in Practical Ways
The Cape Cod Foster Closet supports local foster, kinship, and adoptive families by providing urgently needed clothing, shoes, books, toys, baby gear and furniture, formula, car seats, plus fun family events and opportunities for caregivers to connect.
The Homeless Prevention Council helps to stabilize individuals and families in crisis and provides access to food, clothing, furniture, transportation, fuel assistance, and housing.
Sharing Kindness provides urgently needed counseling and programs in the areas of suicide prevention, mental health education, and grief support on the Cape and the Islands.
The Family Table Collaborative produces and delivers nutritious free meals to the families and individuals who need it most and provides educational programs highlighting healthy eating.
Gifts, Treasures, and Treats for Everyone at the Brewster Baptist Church Holiday Fair!
Cape Codders know this is the one holiday fair you don't want to miss.
Get in the spirit while you shop for everyone on your list!
Hundreds Of Items...
Just Too Much To Describe!
Honestly, a huge number of things. Wish we could show you more!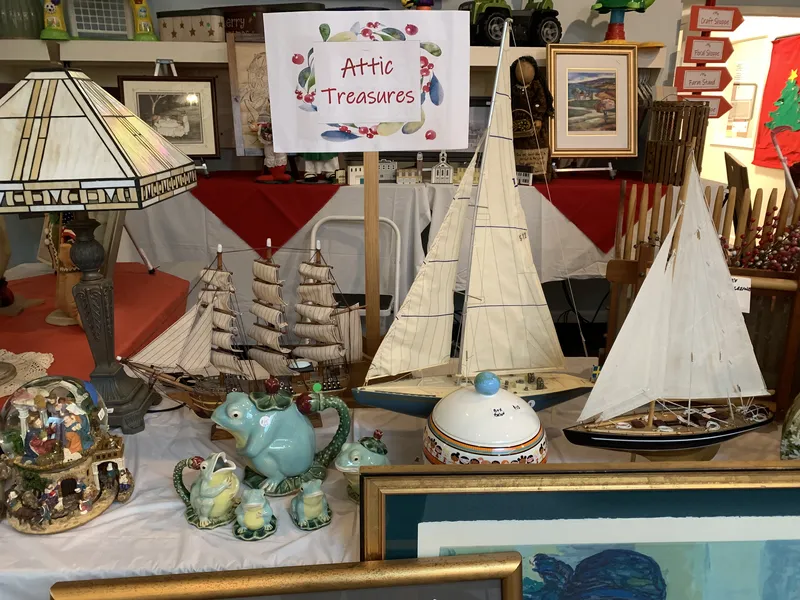 Attic Treasures
All kinds of things in Attic Treasures!
Clean and functional, gently used antiques, collectibles, vintage goods, china, pottery, kitchenware, or artwork.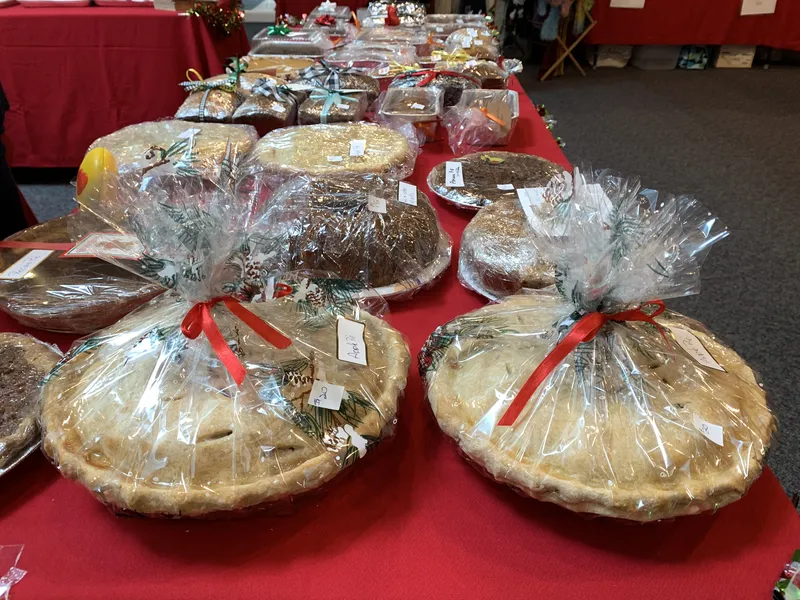 Bake Shoppe
Bake Shoppe
Delicious pies, breads, brownies, cakes, lots of cookies.
Bistro
The Bistro
Delicious sandwiches, chowder, drinks, and of course, desserts!
Craft Shoppe
Craft Shoppe
Unique and colorful pottery, wood crafts, decorative items, baby soft toys, quilts, Christmas décor and ornaments.
Farm Stand
Farm Stand
Jams, jellies, relishes, pickles, salsa and chutney, party dip mixes, flavored vinegars, trail mixes, and fudge.
Flower Shoppe
Flower Shoppe
Festive holiday or coastal wreaths and floral arrangements.
Jewelry Shoppe
Jewelry Shoppe
Necklaces, pins, bracelets, earrings—old, new, real or gorgeous fakes, plus gently used handbags.
Knitwear Shoppe
Knitwear Shoppe
Handcrafted warm and cozy knitted sweaters, mittens, scarves, and baby clothes and toys.
Sved's Spreads
Svedens' Famous Dips and Spreads
Four kinds of Svedens' Famous Dips and Spreads, all freshly made with local fresh fish, smoked, and blended into delectable and tasty combinations. Make great gifts, and freeze well, too.
Brewster Baptist is Easy to Find
Coming from Rte. 6, take exit 10 and go north (toward Brewster) until it dead-ends, then turn left onto Rte. 6A. The church is on the left. Additional parking is in the back.
If you're coming from Orleans on 6A, look for us on the left just after the Brewster General Store.
If you're coming from the west on 6A, the church is on the right. you may enter the parking lot through the Brewster Ladies Library entrance.
And there's lots of parking.